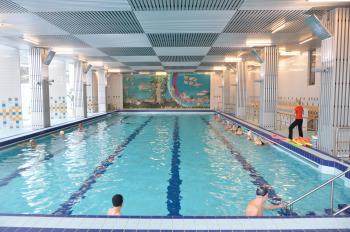 Information for pool visitors
Visiting the pool
As of 16 May 2020, we kindly invite customers who had already purchased a pool subscription (before the announcement of the emergency situation on 13 May 2020) to visit the pool at weekends (Saturday-Sunday) from 16:00 to 19:40.
Rules for pool access:
The pool is not available for use by persons under 12 years of age.
You must register your visit in advance to use the pool in the hydrotherapy complex at a specific time by calling +371 67147298 (8:00-19:30).
When entering the hydrotherapy complex, customers must wear a face mask.
Outerwear and street shoes (placed in a separate bag) must be handed over and left in the cloakroom; you may only enter the hydrotherapy complex wearing clean, appropriate footwear.
Customers must bring their own swimming cap and accessories.
You must not stay in the changing rooms and showers next to the pool area for more than 30 minutes (up to 15 minutes both before and after your visit to the pool).
It is forbidden to bring food products into the hydrotherapy complex.
When visiting to receive treatment at the Vaivari NRC, patients must wear a face mask during consultations or treatment sessions. Face masks and disposable shoe covers can be purchased at the store next to the 1st floor entrance.
We kindly ask our patients and customers to be understanding and follow social distancing and other preventive guidelines aimed at combating the COVID-19 pandemic while at the centre.
We look forward to seeing you at the Vaivari NRC!
Hydrotherapy is one of the world's oldest treatment methods, used in ancient Egypt, Rome and Greece to reduce pain and treat diseases. Hydrotherapy refers to the external use of fresh, sea or mineral water for preventive, curative and beauty purposes.
At the Vaivari NRC hydrotherapy complex, patients and customers can undergo hydrotherapy procedures and physical therapy procedures, receive massages, and visit our gym as well as the only mineral water pool in Latvia (25 m).
All of the procedures offered strengthen and restore health, reinforce the body's immune system and its ability to fight disease, stress and adverse environmental conditions. The effectiveness of hydrotherapy depends on the skills and experience of the specialist conducting the session.
Learn more about the services offered at the hydrotherapy complex.
In autumn and winter, before visiting the pool, outerwear and street shoes must be left in the cloakroom. Disposable shoe covers must be worn when attending treatment sessions or visiting the pool.
From 15 November 2019, on Fridays from 18:30-19:30, swimming lessons in the pool "Youth sailing club Jūrmala" will be held; coach Ināra Aile.
Pool opening hours
Monday-Friday
For patients 8:00 - 16:00
For customers 16:00 - 20:00
Saturday
For patients 8:00 - 13:00
For customers 13:00 - 20:00
Sunday
For patients 8:00 - 11:00
For customers 11:00 - 20:00
On weekdays from 13.00 to 14.00 the pool will be closed for cleaning. According to the rules of the hydrotherapy complex, swimming caps must be worn in the pool.
Hydrotherapy complex services are available for customers with a doctor's referral only.
Water temperature: +29-31 C
Phone number for inquiries: + 371 67147298, +371 67766122
Video prezentācija